Corbridge Gardening Society
NEWSLETTER AUTUMN 2015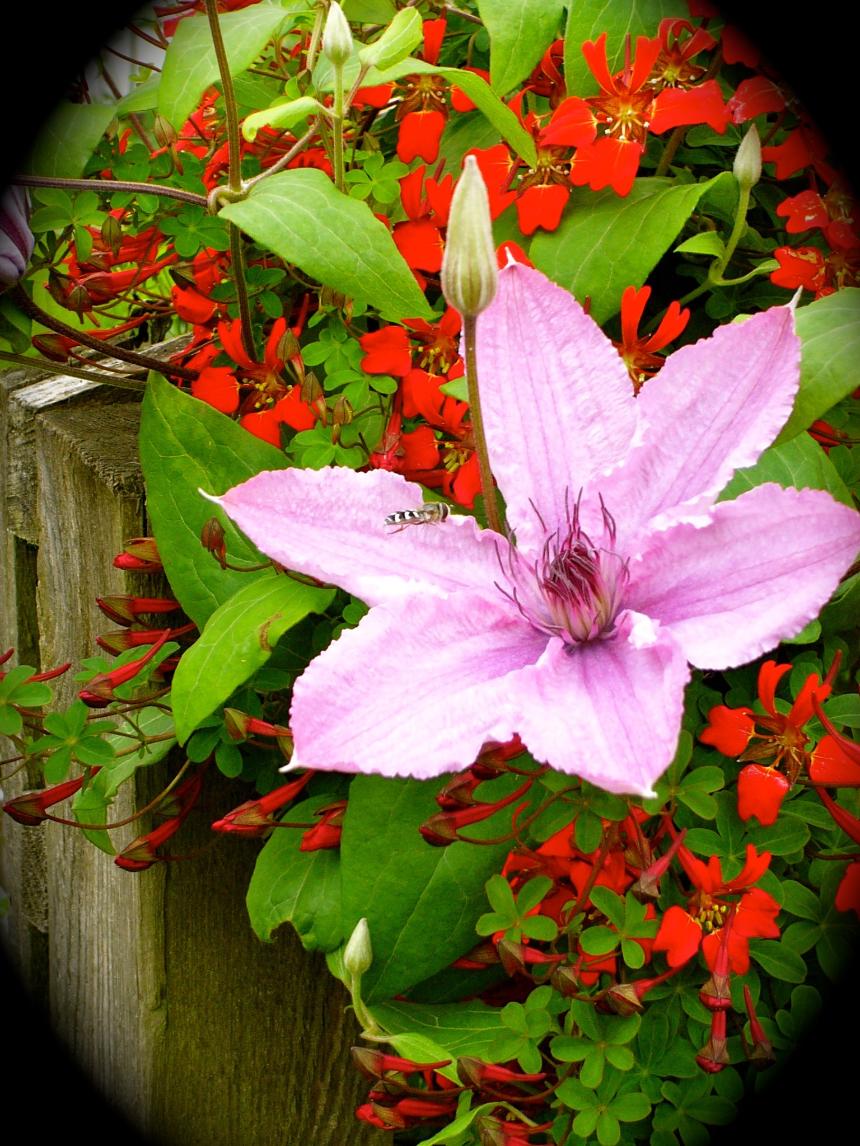 Letter from CGS Chair Jennifer Simpson
Hello everyone,
I hope your gardens have survived the summer with some successes, roses perhaps but no doubt a bit of variation. Rather like our society activities over the year. Entries continued to decline at the shows but the social occasions were enjoyed by those who attended, along with the delightful refreshments. Day visits gradually filled up and were much appreciated. The Sussex tour was slow to fill and needed help from friends and other local society members but it was a splendid experience: great gardens amongst good company in comfortable surroundings. The plant sale made more than expected, with the new regime of only donated plants, and several kind folks opened their garden for us, always an inspiration.
So a big thank you to the committee who put much thought and worry into the events, and to the helpers who appear on the day. The society exists as a do-it-yourself group, with its success depending on members taking a turn at management, preferably as volunteers rather than only once their arm is twisted! With a membership of around 260, 40 of whom joined within the last 18 months, there should be enough of us to share the tasks for a while. Our pattern of 3 years on the committee creates the opportunity for a constant supply of new faces and ideas. As usual we shall need several new committee members by next March, to cover the secretary's job, programme and visit planning, as well as 'shadows' for other events. So please, please offer your services. There is a package of well-tried systems in place to make the tasks as easy as possible. Without a constant supply of willing enthusiasts the society will have to organise a much-reduced programme or else fold altogether. Technology has been of great assistance to us. Why not add your e-mail address to our list? It saves us time, postage and printing costs, and allows for better communication.
The committee was pleased to support other local groups this year: a £500 grant was made to Corbridge in Bloom covering the purchase of a self-watering tub in the Market Place, £300 to Charlotte Straker, which was used for a new seat as part of their outside improvements, and £200 towards plants in the Riverhill Abbeyfield Garden.
It is sad to report the death of David Hudson, lately of Wentworth Grange. He was a loyal member, contributing much to the redevelopment of the society over the years.
I look forward to seeing you all at our excellent series of talks planned for the winter months.
Jen Simpson, Chair
Dates for the Diary
December 10th 2015: CGS Members' Night, Corbridge Parish Hall
March 5th 2016: Inter-Societies Lecture given by Derry Watkins of Special Plants Nursery, 'Derelict Hill Farm to Garden', 2.30 p.m., Stocksfield Community Association. Tickets available at CGS talks from autumn
CGS Garden Tour 2016, North Wales: Sunday June 26th - 30th June (4 nights), based at Celtic Royal Hotel, Caernarvon
Winter Programme 2015/16 Reminder
All talks 7.30 p.m. Corbridge Parish Hall
Thursday 17th September: 'Water, the Miracle Gardening Ingredient', Dr Phil Gates, Durham University
Thursday 15th October: 'Gardening is Good for You', Clive Moon, Tynedale Horticultural Services
Thursday 19th November: 'The Duchess, the Head Gardener and the Making of the Alnwick Garden', Trevor Jones, Head Gardener
Thursday 10th December: Members' Night, Presentations and Christmas Buffet. Tickets will be on sale during the autumn meetings. Buy yours early to avoid disappointment.
Thursday 21st January: 'Fabulous Gardens of Northumberland', Geoff Hughes, NT
Thursday 18th February: 'A Closer Look at Capability Brown', Marie Addyman
Thursday 17th March : AGM followed by 'Designing Gardens', Dr Sophia Monkman
Congratulations to all Cup Winners at the Annual Show 2015
The Barratt Trophy Mo Lucas
Best aggregate score in all floral classes ---------------------------------
The Lancelot E. Smith Cup Anthea Stephenson
Best exhibit in rose classes --------------------------------
The Sybil Engleheart Bowl Gay How
Best exhibit in flower classes --------------------------------
The Corbridge Garden Society Cup Mo Lucas
Best aggregate score in flower classes ---------------------------------
The Professor Daysh Memorial Cup Hazel Hughes
Best exhibit in sweet pea classes --------------------------------
The Anderson Perpetual Challenge Cup Gay How
Best exhibit in delphinium classes ---------------------------------
The Clement Carnish Perpetual Challenge Cup Anthea Stephenson
Best exhibit in pot plant classes ----------------------------------
The Corbridge Gardening Society Centenary Cup Anthony Coon
Best exhibit in flower classes ---------------------------------
The Ramsay Silver Salver Margaret Johnson
Best Exhibit in cookery classes ---------------------------------
The Reed Challenge Cup Mo Lucas
Best exhibit in preserves classes ----------------------------------
Soft Fruit Cup Mo Lucas
Best exhibit in soft fruit classes ---------------------------------
Photography Cup Derek Parker
Best exhibit in photography classes ----------------------------------
Best Exhibit in Show Gay How --------------------------
Notice of Titles for Annual Show 2016 Photography Classes
1.Your best garden photo; 2. Your favourite photo
Spring Show Exhibition of Members' Photographs
All members are invited to bring along their photos to be displayed on the night. There will be a vote to choose the most popular.
Secretary's Notice
We currently have 260 members, with a steady stream of people joining every year. That's a very healthy figure but it does mean that staying in contact with you all is quite a task when it comes to mailing out AGM papers or notification of the annual garden tour. It is also a significant expense, when photocopying and postal charges are factored in. We do therefore plan to follow the practice of many other societies and switch to paperless methods wherever possible. As a trial run this magazine will be emailed to all members whose electronic contact details we have. A paper copy will be available for perusal by any interested members without email at our winter lectures.
We Need Your Plants!
The society's principal source of revenue is the spring sale of plants held in Corbridge Parish Hall. Please bear it in mind when you split your perennials this autumn or prick out some seedlings next year. Set some plants aside early and there's less chance of forgetting to support this very important event.
Garden Tour of West Sussex 2015
We travelled to Brighton on a Sunday in June, our base for the next five days, in the capable hands of Tynedale Group Travel.
On Monday morning our first visit was to Wakehurst Place near Haywards Heath, a National Trust property of 465 acres wholly managed on a long lease by the Royal Botanical Gardens, Kew. The grounds are renowned for their ornamental gardens, temperate woodlands and the Millennium Seed Bank, safeguarding the future of plants around the world.
Nymans was our afternoon destination. The mansion house, left to the NT by the Messel family, was largely destroyed by fire in 1947. The striking gardens created by Ludwig Messel in the late-nineteenth century remain, and boast an arboretum walk, lily pond, rose garden and wild garden.
Tuesday saw our group visiting two private gardens. Denmans near Fontwell, designed by John Brookes, had minimal earth visible and displayed an interesting mixture of informal shrubberies, perennials and foliage plants, with pathways mown through grassed areas. West Dean Gardens, north of Chichester, are home to a horticultural college. These lovely gardens feature restored Victorian glasshouses, immaculate kitchen gardens, a wild flower meadow and one of the longest pergolas in the world at 300 feet!
Next morning, Brighton Pavilion was our destination, with a guided tour of the grounds by the head gardener. These were laid out according to John Nash's plan of the early 1820s, with flowering shrubberies designed along the sinuous lines typical of the Regency period.
Petworth House and Woolbeding (both NT) were on the agenda for our last day in West Sussex. Petworth, a seventeenth-century 'house of art', has inspired countless artists (including JMW Turner, van Dyck, Reynolds) and paintings by them are displayed in the North Gallery. The grounds feature acres of woodland, a 'Capability' Brown landscaped deer park, and a lake overlooking the South Downs National Park.
Woolbeding Gardens were just beautiful with so many attractive features. Given to the National Trust in 1957 by the Lascelles family, the house and grounds were leased to the late Simon Sainsbury, who restored the seventeenth-century house and extensive grounds featuring a series of garden 'rooms', with planting and colours blended naturally. Of particular interest were the summerhouse and waterfall, Chinese bridge and sculptures by William Pye. Many members thought that Woolbeding was the stand out garden of the tour.
Friday saw us leaving our hotel on Brighton seafront. We won't miss the giant seagulls! En route to Corbridge our last visit was to Knebworth House near Stevenage. This privately owned property dates from Edwardian times. Head gardener Kelly had only been in charge for three years but was gradually introducing subtle refinements to the pergola, maze, vegetable, rose and herb gardens.
We all had a thoroughly enjoyable five days in West Sussex. Grateful thanks to Sasha, Margaret, Karen and Jen for arranging an interesting and varied tour.
Michael and Lin Cunliffe
Joint Societies' Lecture 2015: Troy Scott Smith on 'Revitalising Vita'
It was Corbridge's turn to organise the annual Joint Societies' garden lecture in 2015 and we were delighted to secure Troy Scott Smith, Head Gardener of the National Trust's Sissinghurst Castle in Kent, as our speaker.
Sissinghurst is such a distinctive and lovely setting that the photographic part of Troy's talk was a real treat. We saw images of the garden's original creators, Harold Nicolson and Vita Sackville-West, the interior of the house and famous tower, and archive shots of the garden and surrounding countryside as they were when the Nicolsons took over the then semi-derelict Tudor property.
Troy is clearly very attached to Sissinghurst already, although at the time of the talk he had been there less than two years. It is a garden with a very special 'spirit of place' and he talked at some length about how important it is for those maintaining a historic site of this eminence to keep faith with the creator's original vision of it.
He showed us photographs of the Herb Garden, for instance, both in the 1930s and today. Because of the number of visitors Sissinghurst receives –185,000 in 2014 – a decision had been taken on H&S grounds to fill in the gaps between paving slabs with pointing instead of allowing small plants to grow between them, as they did in Vita's day. Troy has just chipped out that eye-offending pointing and is coming up with some micro planting guaranteed not to trip the unwary.
Similarly he showed us photographs of the Rose Garden in Vita's day and how it is now, pointing out that when she designed it she filled it with nothing but roses and irises. Later gardeners have tried to prolong its season of interest, but Troy argues that this detracts from her original intention of creating a blaze of glory in June only, and wants to return to that idea. He is keen also to restore the area of the garden known as Delos to its original appearance, designed to resemble a Greek rural setting.
Not every innovation since Vita's day has been to the garden's detriment, however. He feels that the current woodland planting under the Nut Walk is a real success and that the original carpet of multi-coloured polyanthus, lost long ago to fungal blight, was far less subtle and attractive.
Troy is a details man. He has thought long and hard about the visitor's experience in the garden, making big improvements already to the entry point, the shop, café courtyard and service areas. Even small touches like taking down the Keep Out signs on certain gates give a much more friendly impression and are faithful to the fact that Sissinghurst was originally someone's much-loved home.
We were all very struck by his enthusiasm for the garden and the way he is so sensitively and imaginatively preserving and enhancing its very special atmosphere. The National Trust is lucky indeed to have this rising star of a gardener, destined no doubt for even bigger and better things.
Lynn Curtis, Secretary